By Brian Gallob, Solutions Architect, Evolving Solutions
Virtual SAN is VMware's software-defined storage solution, built from the ground up for vSphere virtual machines. It abstracts and aggregates locally attached disks in a vSphere cluster to create a storage solution that can be provisioned and managed from vCenter and the vSphere Web Client.
VSAN is hypervisor-converged – that is – storage and compute for VMs are delivered from the same x86 server platform running the hypervisor. It integrates with the entire VMware stack, including features like vMotion, HA, DRS, etc. VM storage provisioning and day-to-day management of storage SLAs can be all be controlled through VM-level policies that can be set and modified on-the-fly.
VSAN delivers enterprise-class features, scale and performance, making it the ideal storage platform for VMs.
Technical Architecture
Virtual SAN enables both hybrid and all-flash architectures.
Irrespective of the architecture, there is a flash-based caching tier which can be configured out of flash devices like SSDs, PCIe cards, Ultra DIMMs etc. The flash caching tier acts as the read cache/write buffer that dramatically improves the performance of storage operations.
In the hybrid architecture, server-attached magnetic disks are pooled to create a distributed shared datastore, which persists the data. In this type of architecture, you can get up to 30K IOPs per ESXi host.
In All-Flash architecture, the flash-based caching tier is intelligently used as a write-buffer only, while another set of SSDs forms the persistence tier to store data. Since this architecture utilizes only flash devices, it delivers extremely high IOPs of up to 90K per ESXi host, with predictable low latencies.
Hyperconverged storage solutions require the installation of a virtual storage appliance on each host. However, in the case of VSAN, because it is embedded in the ESXi kernel, all the Virtual SAN smarts are already built in to the hypervisor and there are no additional components to install. Just 2 clicks and it can be enabled. There is no separate virtual appliance and no additional management overheads.
Because it is embedded in the hypervisor VSAN provides the shortest path for I/O, making storage operations optimally efficient and does not consume CPU resources unnecessarily. Even during maintenance operations and VM migrations, storage operations are seamlessly handled.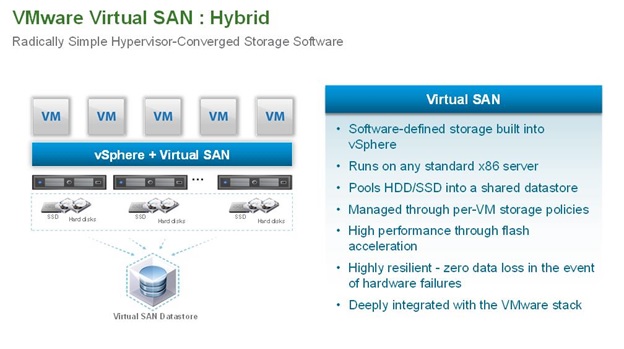 What's New in VSAN 6.0?
Virtual SAN 6.0 is the second-generation of VMware's hypervisor-converged storage for VMs. Virtual SAN 6.0 capabilities are centered on delivering high performance and increased scale without compromising simplicity and cost-effectiveness.
Most notably, Virtual SAN 6.0 now allows you to create an all-flash architecture in which the VSAN datastore is carved entirely out of flash devices – i.e. SSDs are used for both caching and data persistence
In VSAN 6.0, performance has been improved with 2x more IOPS on the hybrid configuration and 4x more IOPS on All-Flash, making VSAN ideal for high performance applications which require consistent response times and low latencies
Virtual SAN 6.0 also features twice the scale, with the ability to scale to 64 ESXi hosts per VSAN cluster
In addition, VSAN 6.0 can scale to run up to 200 VMs per host representing a 50% increase over the previous version
It also features a new file system called the VSAN file system which provides efficient snapshots and clones
Rack-awareness provides the ability to tolerate rack failures for a VSAN cluster that spans multiple racks
Support for hardware controller-based checksums helps detects data corruption issues while support for hardware-based encryption can encrypt 'data-at-rest' for workloads that require the added level of security
With the major enhancements of this release, Virtual SAN provides both enterprise-class scale and performance as well as new capabilities that broaden the applicability of the now proven Virtual SAN technology to business critical environments.
VSAN is built from the ground up for the vSphere virtual infrastructure. With its simplicity, performance, scalability and cost-savings, VSAN is suited to be the storage for all your VMs.
VSAN is now enterprise-ready and customers can use it for a broad range of use cases, including business-critical and tier-1 production applications.
Business Proposition
Virtual SAN is built from the ground up for vSphere environments and its core value proposition comes from the following key strengths:
Radically Simple
It is embedded in the VM kernel and does not need to be installed like a storage appliance. Just 2 clicks and its enabled!
It uses storage policies to assign storage services to specific VMs. It then automatically tunes and rebalances storage to ensure that the VM storage SLAs stay compliant with the policies throughout the lifecycle of the VM.
It is managed through the same web interface as the rest of your vSphere environment. This makes it easy for even the VI Admin to manage storage and eliminates the need for specialized skillsets.
It is completed integrated into VMware stack, and works seamlessly with other vSphere features and VMware products.
High Performance
VSAN 6.0 uses a new flash architecture for caching and data persistence. This provides the ability to get high IOPS with consistently low latencies suitable for business-critical or transaction processing applications that require consistent response times
It is embedded in ESXi kernel and therefore optimizes the data I/O path better than other technologies that need a storage virtual appliance
One of VSAN's core advantages is its ability to scale performance and capacity in a linear and predictable manner: both scale-out or scale-up by adding flash, magnetic disks or hosts as needed
Lowers TCO by as much as 50%
VSAN has a hardware independent architecture which can utilize cheaper server-side, industry-standard components to reduce storage capex; the scaling and purchasing in chunks allows the flexibility to change vendors or hardware over time, ensuring you use the latest available on the market
Grow-as-you-go scaling allows investments to be spread over time in a more cost-effective manner
Last but not least, its VMware integration, policy-driven control and automation make it operationally efficient, saving even more dollars in the long run
Check out this post: A Closer Look: VSAN Architecture where Brian examines the management and performance of VSAN architecture.