IBM explains cognitive computing as follows, "cognitive technology augments human expertise to unlock new intelligence from vast quantities of data and to develop deep, predictive insights at scale."  Cognitive computing is opening up more real-time opportunities  for many businesses across many industries. In fact, analysts expect investment in cognitive technology to grow from $2.5 billion in 2014 to $12.5 billion in 2019. IBM recently surveyed over 600 decision makers who are early adopters and asked about the benefits they are experiencing.
First, who are the early adopters?  Below is a great graphic from IBM outlining where these early adopters fall within their cognitive uses: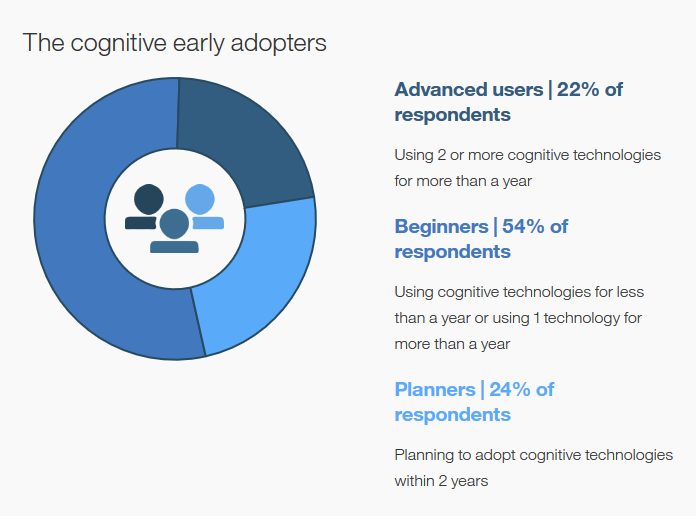 Here are also some of the reasons why they are investing in cognitive:
65% of early adopters view cognitive technology as very important to their organization's strategy
58% feel that cognitive is essential for digital transformation
58% reported that they feel strongly that cognitive will become a "must have" in just a few short years
62% of cognitive users are already reporting that their projects have exceeded expectations.  For the most part these early adopters are finding success in three categories: customer engagement, productivity and efficiency and business growth. Here is a break down from the survey:
49% report more personalized customer/user experiences
42% said they have been enabled to respond faster to customer/market demands
46% have seen improved decision making and planning
46% report improved security and compliance
41% have used cognitive to expand the company into new markets
45% report a reduction in costs due to productivity and efficiency gains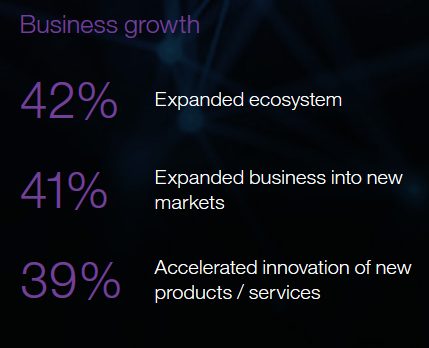 The road to adoption isn't always easy. Many of the decision makers surveyed sited data management and an employee skills gap as challenges. Turning to outside expertise has been key to helping them overcome both challenges.
Cognitive computing is helping many early adopters unlock new opportunities. As more practical use cases develop, we can expect more companies to put cognitive technology to work for them.