A Closer Look: VSAN Architecture
By Brian Gallob, Solutions Architect, Evolving Solutions
In last week's blog post, we walked through what's new with VMware's VSAN 6.0. Today, let's take a look at how its management and performance.
VSAN Architecture
WRITES:
Each write first goes to a flash device. It is then de-staged to the data persistence tier (Magnetic disks in Hybrid architecture and flash devices in All-Flash architecture). When creating replicas, the writes for each replica to the flash devices is
VSAN WITNESS:
Witness components—those that contain only object metadata—are part of every storage object. A witness serves as a tiebreaker, to avoid split-brain behavior when availability decisions are made in the Virtual SAN cluster. Each Virtual SAN witness component also consumes 2MB of capacity.
Virtual SAN All-Flash architecture – Virtual SAN 6.0 allows the ability to create an all-flash architecture in which SSDs are used for caching as well as data persistence. In this architecture, the flash cache is used completely for write caching.
This all-flash architecture allows tiering of SSDs: a write-intensive, high endurance caching tier for the writes and a read-intensive, cost-effective SSD tier for data persistence, thereby reducing the cost of the all-flash architecture.
Virtual SAN All-Flash provides consistent, predictable performance with up to 90K IOPS/Host and sub-millisecond response times, making it ideal for tier-1 workloads or any applications that require consistent, predictable response times.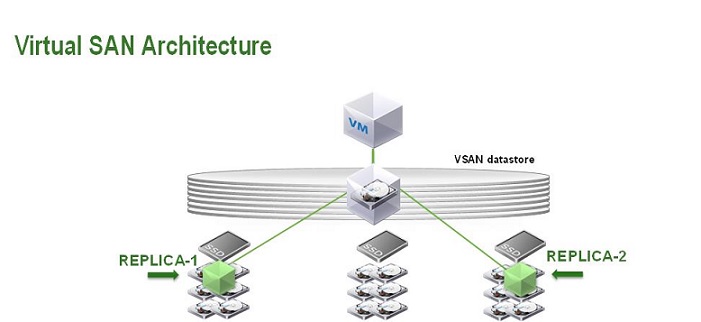 Management
Virtual SAN is managed through the vSphere Web Client and vCenter server
Virtual SAN is enabled at a cluster level and can be done by clicking a radio button
Management is all done through the web client using the same toolset that is used for vSphere
Virtual SAN integrates with the entire VMware stack, including features like vMotion, HA, DRS etc.
Virtual SAN can leverage VMware vSphere Data Protection™, and vSphere Replication™ for data protection, backup, replication, and disaster-recovery (DR) purposes. Virtual SAN interoperates with vRealize Automation and can be deployed in conjunction with VMware Horizon® View™ in VDI environments and vCenter Site Recovery Manager in DR environments.
VMware's Storage Policy Based Management framework allows you to define storage requirements on a per-VM basis, based on the needs of the applications running in the VMs.
Simply define the amount of capacity, performance and availability for each VM
VSAN then matches those defined requirements to underlying storage infrastructure.
Unlike traditional external storage, where provisioning is done at storage array layer, in a more rigid-hardware-centric way… Virtual SAN puts the application in charge, and allows you to provision and control storage in an application-centric way
Virtual SAN software abstracts underlying hardware and automates ongoing management of the storage SLAs assigned to VMs
This simplifies storage management…. And as you will see, saves you time and money.
Rack Awareness is a new feature in VSAN 6 – Virtual SAN 6 now enables intelligent placement of virtual machine objects across server racks for enhanced application availability even in case of complete rack failures.
Of course, VSAN can also tolerate disk, host, and network failures (like before in VSAN 5.5).
Virtual SAN allows you to either scale up or scale out your cluster
Scale-out
Add another server to add capacity and performance
Each server contributes HDD to increase capacity and an SSD to contribute performance
Scale-up
Scale up for capacity by adding more HDDs
Scale up for performance by adding more SSDs
The end result is you are able to elastically and granular scale your storage system in a non-disruptive way
Effective for building out what you need and modularizes your datacenter
Eliminates need to make large upfront investments and gives you linear predictability for forecasting.
Some of our customers really like this functionality given the trend towards distributed / scale-out applications
Virtual SAN 6.0 doubles the scalability of Virtual SAN 5.5 by scaling up to 64 nodes per cluster for both hybrid and all-flash configurations.
Furthermore, Virtual SAN 6.0 improves VMs per host by more than 50% with the ability to manage up to 150 VMs/host on a hybrid configuration and 200 VMs/host in an all-flash configuration.
In addition to providing enterprise-level scale improvements, VSAN 6.0 provides extremely high and consistent performance. In hybrid architecture, VSAN can provide up to 40K IOPS/host, reflecting a 2x improvement over the first release of VSAN.
All-Flash architecture is specially designed to provide high performance with predictably low latencies. It can provide up to 90K IOPS/host.
Performance
Enterprise-grade Snapshots – The release introduces a high performance and efficient snapshot capability increasing the snapshot depth to 32 per virtual machine while minimizing the performance overhead
Take hourly, daily snaps for better data protection and availability
Virtual SAN scales to 32 nodes and 2M IOPs, but it does so in a predictable and linear fashion
This is particularly helpful if you are trying to forecast storage capacity, or have a latent application in need of more performance
Virtual SAN gives you the ability to granularly scale-up or scale-out your cluster
Add more resources to achieve an intended outcome
One customer quote I liked from the beta was … "We can customize IO and capacity on demand"
Linear and Predictable performance
Scales with your environment
Same functionality across different types of workloads
High VM density in VDI environments.
Performance isn't a constraint
VSAN has VM densities comparable to an all-flash array
Summary
Virtual SAN scales to the needs of your environment
Powerful storage tier running on heterogeneous server hardware
32 node VSAN cluster
4.4 TBs of capacity
2M IOPs
3,200 VMs
Enterprise-grade persistent storage
Ideal and viable storage tier for vSphere environments
VSAN is high performance, scalable and resilient.