Key Takeaways from IBM Think 2019
By Bo Gebbie, Vice President, Sales, Services and Marketing
During the week of February 11, IBM hosted IBM Think 2019 in San Francisco, CA.  In addition to Think, the annual IBM PartnerWorld Conference was also held during the same time.  Hosting these events together saw almost 30,000 attendees descend on San Francisco for the week.
Evolving Solutions had several team members and clients attend the event.  It was an outstanding opportunity to learn about IBM's 2019 strategic imperatives, new solution announcements and new channel program enhancements.  Additionally, the event afforded us the opportunity to network with hundreds of clients and IBMers from across the country.
As I reflect back on Think, there were several key take-aways for me.
Hybrid Cloud is where it's at. According to the IBM Institute for Business Value, clients are already using between two to 15 clouds.  These environments might be on-premise or in the public cloud.  As the number of cloud silos continue to grow, clients need an easier way to connect the applications, no matter where the data resides.  During Think, the IBM Cloud Integration Platform was announced.  This platform is "designed to securely connect applications, software and services from any vendor regardless of whether those systems are on-premises, in a public cloud or a private cloud," according to IBM.
Data.  Data. Data.  According to IBM CEO Ginny Rometty, "only 20% of the world's data is searchable."  Applications such as Office365, CRM, expense management, etc. were the "easy apps" to get into the cloud.  There is 80% of data out there that is critical to an organization's overall success.  Those core systems will be the focus of the next era.  How do clients utilize that data to make gather meaningful business insights, and make-real time decisions?  IBM is placing big bets on "the next 80%" to help grow its solution portfolio.
Artificial Intelligence will transform how we all work. Many people still think of AI as something you would see in a Sci-Fi movie.  But, according to Rometty and several executives we spoke with, AI will be embedded in applications or layered on top of them in the future.  AI will enable new or improved business processes.  AI will enable every single person to do their job in a more efficient or data-led way.  AI will not replace jobs; rather it will augment how we do work.  I like the theory, and look forward to seeing how this plays out over time.
Red Hat is key to IBM's future. The IBM executives could not say a ton about the Red Hat acquisition, since the deal has not closed yet. But, every single IBMer was excited for what Red Hat can bring to IBM in terms of new client opportunity, innovating the product stack and keeping IBM relevant to the next generation of buyers.
Holy moly, the Moscone Center is huge. One of my non-business learnings is that the Moscone Center in downtown San Francisco is enormous.  It is no small feat to fit tens of thousands of people into one place!
Over the next few months, we will have Evolving Solutions team members at several of our other strategic partners' premier conferences.  We will share our insights from those events on our blog.
I am looking forward to returning to San Fran next May for Think 2020.  Hope to see you there!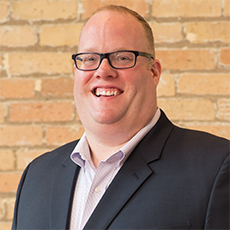 Bo Gebbie joined Evolving Solutions in January, 2017 as the Vice President of Sales, Services and Marketing. In this role, he is responsible for the sales, pre-sales services, post-sales consulting and marketing pillars within the organization. He is a member of the Executive and Management Teams, and represents the organization externally on vendor and partner Advisory Councils.
Before joining Evolving Solutions, Bo was an IBM executive, serving last as Vice President of Server Solution Sales, North America. In that role, he had sales and profit responsibility for a $3B portfoilio across Power Systems, z Systems and the Server Linux brands. Prior to that, Bo was the Business Unit Executive, Power Systems Sales, North America.
Like what you read? Follow Bo on LinkedIn.