Each December Computerworld surveys IT leaders to make predictions for the upcoming year.   Today let's look at their findings:
Technology spending
Computerworld's survey found that technology spending is expected to increase for 46% of the respondents. More and more companies find that technology is the key to differentiate themselves in the marketplace. 42% of respondents reported that their spending will stay the same and only 12% expect a decrease.
Where will investment take place?  Security, cloud and analytics ranked high on the list.  Check out this graphic from the survey: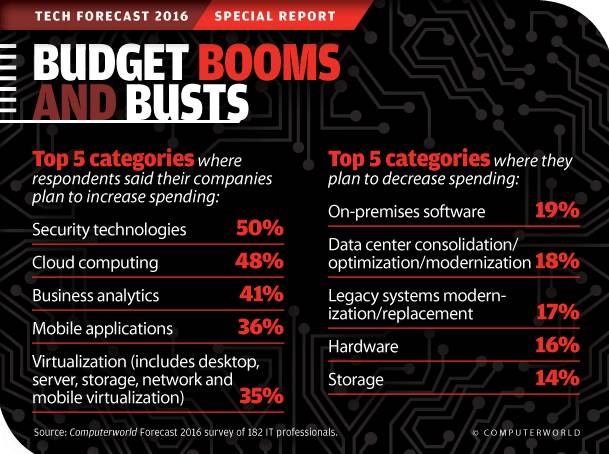 Computerworld also calls out, "after several years of languishing in the tech hype cycle, the Internet of Things finally looks to be commanding tech execs' attention, with 29% of respondents identifying it as a new area of spending for 2016. Green IT, which likewise had been back-burnered at many organizations, popped up on respondents' radars as well, with 16% saying energy-saving technologies will be a new spend for them in the year ahead."
Goals in the coming year
The survey also looked at what key projects are in the workds and the underlining goals driving them. Cloud computing, security and modernizing/replacing legacy systems were the top projects identified. 24% identified maintaining or improving service levels as a key goal of their current projects. Other goals notes were increase or create new revenue, increase productivity, improve the customer experience and meet security or compliance goals.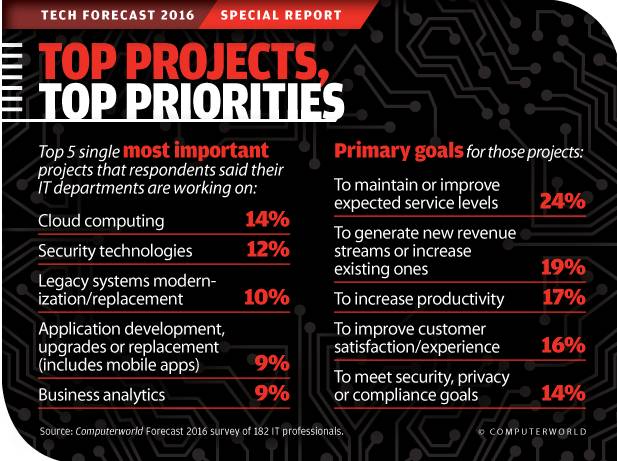 Cloud
The survey found that cloud is still "a piecemeal journey" but as spending plans show it will continue to grow. 29% of respondents have moved some enterprise applications to the cloud with more in the works. 13% are starting to move email, calendar  or storage to the cloud. Further out industry analysts at IDC expect half of enterprise infrastructure and software investments to be cloud-based by 2018.
2016 is teed up to be an exciting year with continued focus on the technologies that will most improve service delivery and provide a cutting edge in the marketplace. Share where your company is headed.